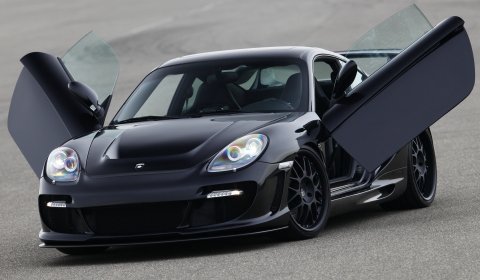 German tuner Gemballa will be present at the classic car show "Retro Classics" in Stuttgart on 10 to 13 March. The company from Leonberg are positioned directly at the entrance of the east foyer which hosts an area with Neo Classics.
At the event they will introduce their last program for the Porsche 997 Turbo, the Gemballa Avalanche GTR 750 EVO-R. The first-generation Avalanche was released in the mid-1980s. The program includes numerous exterior and interior upgrades, but also an increase of power up to 700hp making a top speed of 338km/h possible.
Next to the Avalanche GTR 750 EVO-R, the new matt blue Gemballa Mirage GT Matt Edition will be showcased. Based on the Porsche Carrera GT it offers a massive 670hp peak power and 335km/h top speed. On the outside a new bodykit, suspension setup and color trim are installed. The interior got a proper treatment of leather, carbon and alcantara in matching colors.
Stay tuned for the first pictures from the event in Stuttgart. For more information on the International Oldtimer-Messe Retro Classics in Stuttgart click here!
(The car on the picture is not the Avalanche GTR 750 EVO-R, but the GTR 650 EVO-R released in April 2009)