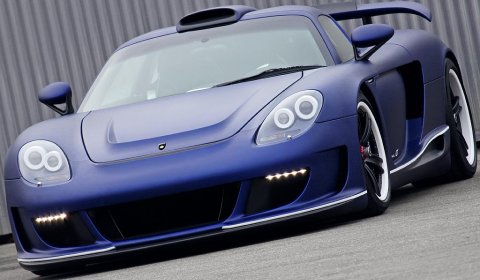 The Gemballa Mirage GT is a known tuning program to us all. A new Mirage GT variant in blue named the Matt Edition was released yesterday. After the restart of the company this is the first officially package based on a program released by the previous owner. The program resembles the Matt Black Edition program shown to us in 2009.
The ultimate sports car package is a conversion based on the Porsche 980 Carrera GT. The performance are 650hp and a maximum torque of 630Nm. The performance figures are 0-100km/h in 3,7 seconds (standard in 3,9), 0-200km/h in 9,7 seconds (standard in 9,9) and a maximum top speed of more than 335km/h.
The body kit includes a wide variety of changed body parts at the front, side and rear. Within the engine compartment and the interior several upgrades have been added, which include numerous Gemballa badges.