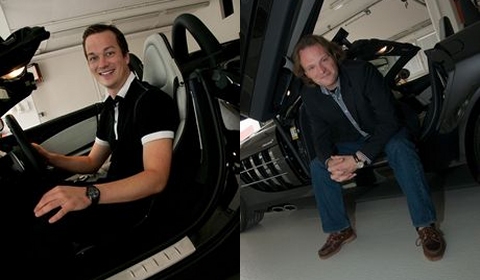 The news is official, Gemballa is back as member of the automotive tuning world. The German specialist made its name as one of the most extreme Porsche tuners and attracted worldwide attention with modifications for the Gemballa Avalanche, based on the Porsche 911 and the Gemballa Mirage GT based on the Porsche Carrera GT.
CEO Andreas Schwarz (on the right) and investor Steffen Korbach (on the left) gave a press meeting this morning. Both stated that the future of the tuner is secured and that the same importers will be used around the world. The main focus for the tuning brand are newly developed packages for the current Porsche Panamera and second generation Cayenne. The first model will be unveiled in October.
The design line is to be continued using almost 30-year heritage as a basis. Another focus lies on the marketing of parts such as body kits, wheels, brakes and chassis parts. The main goal is to expand and develop the Gemballa brand as a manufacturer. Without facing too much time pressure.
The following five models will be continued:
Gemballa Avalanche, based on the Porsche 911
Gemballa Mirage GT based on the Porsche Carrera GT
Gemballa GT Aero 3 based on the Porsche Cayenne
Gemballa Tornado based on the Porsche Cayenne
Gemballa MIG-U1 based on the Ferrari Enzo