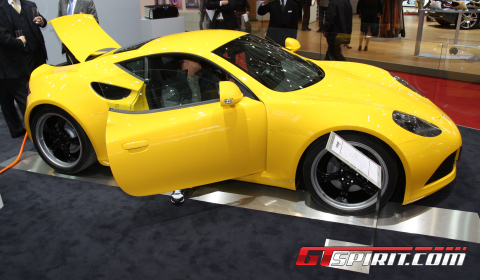 German sports car manufacturer Artega Motors has presented the electric powered Artega SE at the Geneva Motor Show, yesterday. Today we can show you a gallery with live pictures of the enviromental friendly Artega.
To refresh your mind the SE edition comes with high performance in combination with zero emissions. This can be done by the use of light weight materials and an electric engine. The initials stand for "Sport Electric". The initiator of the E-mobility project is convinced of the advantages of electrically powered sports cars.
Two electric motors on the rear axle with a total output of 280kW (380 horsepower) give the car its powerful thrust. These two operate independently, with each driving one of the rear wheels. The Artega SE accelerates from zero to 100km/h in just 4.3 seconds (4.8 seconds with a combustion engine). Unlike the combustion engine, the electric engines transmit their power linearly and immediately, with no delay. The maximum velocity is well over 250km/h.