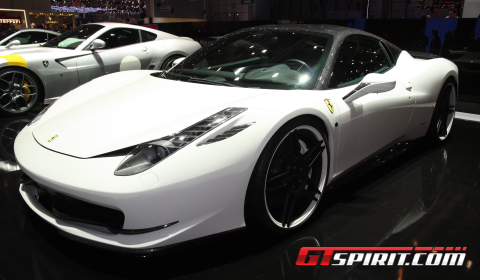 Novitec Rosso have a number of premiers at the 2011 Geneva Auto Salon. Their take on the Ferrari 458 Italia is definitely one of the highlights on the show's tuning side. It is extensive and includes performance, aerodynamics and handling upgrades.
Power output on the 458 Italia is increased to 609hp at 9,100rpm and 569Nm of torque at 5,400rpm. This has been achieved by the new high-performance exhaust system, made from the same Inconel material also used in Formula 1 racing and a new carbon fiber airbox.
Aerodynamic parts are all manufactured from carbon fiber. All have been fine-tuned in the wind tunnel of the University of Stuttgart. There's a new front spoiler attached to the production bumper, wing and the fender-mounted ventilation louvers, rocker panels a new diffuser and a new roof panel and hood also manufactured from carbon.
The sport springs lower the ride height by 35 millimeters. Inside carbon fiber has been applied to the center console, scuff plates and longer shift paddles on the steering wheel. Novitec Rosso still haven't dared to take on the much-criticised layout of all the dials though!
Take a look at our gallery below. For full details on the car visit this link.