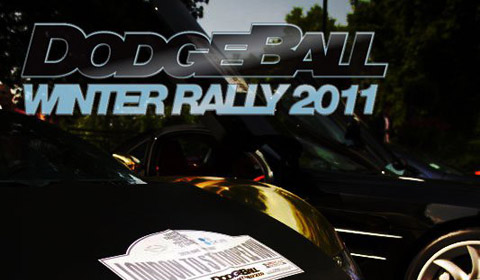 Its been quiet on the rally front for a while, but last month we picked up some rumours while skiing in Verbier that a supercar rally was coming to town soon. This turned out to be the Dodgeball Winter Rally 2011. The Dodgeball Winter Rally 2010 is a decadent trip beginning in London and taking in the French Champagne region, the Swiss Alps and Geneva before finishing with a skiing weekend in Verbier.
The start is in London like the two previous Dodgeball Rallies that went from London to St Tropez in the summer of 2009 and 2010. The event started with a big party in London last night. This morning the drivers set off from central London in a range of supercars including a McLaren SLR, Ferrari 458 Italia, Mercedes SL65 AMG Black Series and a Spyker. Today the routes takes them to the Champagne area in France with a quick fun stop off enroute at Brooklands. The Dodgeball Winter Rally participants will have a private tour of the Cellars at the Pommery Chateau tonight, followed by dinner in the old chateau, an awesome 5* hotel awaits that night before heading down towards Switzerland the next day. As most of the petrol heads on the Dodgeball are also huge watch fans, they will visit a couple of watch factory visits, including Hublot just on the outskirts of Geneva. Friday night the Dodgeball stays at the amazing La Reserve hotel, which some of you may remember from the Carbon Black rally in 2006. Located on a hill overlooking Lake Geneva, its an amazing 5* hotel with plenty of space to put the cars on display in the hotel parking lot.
Saturday the Dodgeball Winter Rally 2011 heads onto Verbier with a stop of at Audemars Piguet enroute. The Dodgeball Winter Rally finishes in the center of Verbier and a party at Coco Club. The next day there will be a special skiing and culinairy event for all participants when they head up the mountains for a private dinning experience on a snow table, with waiters on skis, and amazing views. The final awards are given that night in the amazing chalets were they will be staying until monday.