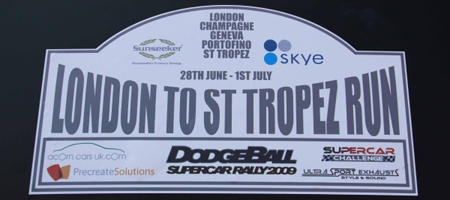 There's a wealth of rallies that happen every year in secrecy. You just don't know that they're happening until someone leaks a few videos of the starting line up or some pictures happen to get posted in public. Dodgeball Rally seems to be one of those types of events.
We don't know anything about it other than what the stickers tell us. It appears to be a three day event starting yesterday at the Dorchester Hotel in London and finishing in two days time (Wednesday) in sunny St Tropez, France.
We've managed to make out at least 2 Veyron's including the gold and matte black example we saw on the 2009 Gumball 3000. Also present were a number of SLR's, Aston Martin's and an orange Ford GT as well as a matte black F430.
Enjoy this collection of videos we've found. A limited number of pictures are available form CitizenSide.com.
VIDEOS