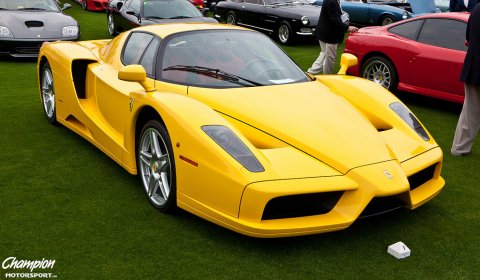 The Ferrari Enzo is a true supercar. The version shown in this post is a stunning looking yellow version of the unique model. The yellow/red combo may not be everyone's favorite but to us it looks breathtaking.
The 12 cylinder mid-engine berlinetta is named after the company's founder, Enzo Ferrari. It was built in 2002 using Formula One technology, such as a carbon-fiber body, F1-style electrohydraulic shift transmission, and carbon fiber-reinforced Silicon Carbide (C/SiC) ceramic composite disc brakes.
The Enzo can accelerate to 97km/h in 3.14 seconds and can reach 160km/h in 6.6 seconds. The quarter mile time is 11.0 at 219km/h and the top speed has been recorded to be as high as 350 kilometres per hour.
More pictures via Teamspeed!