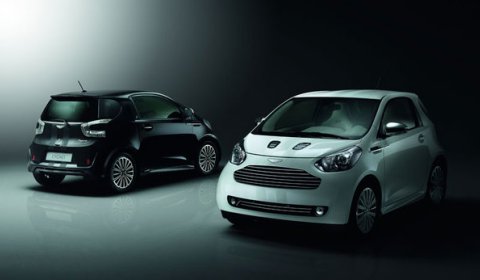 Following the confirmation in October 2010 we can now share with you that the production of the Aston Martin Cygnet will officially start in the upcoming weeks. The first two versions rolling down the assembly line will be Black and White editions, beginning this April. Both cars come with the 97bhp 1.33 liter four-cylinder petrol engine as fitted to the iQ, and can be had with either the manual or CVT gearbox options.
No additional engine tweaks or upgrades have been outfitted to the vehicle. So in the end it manages the same 11.8 second sprint from 0-100km/h and 106mph top speed as the manual iQ. The CVT version drops this to 11.2 seconds, although that's considerably slower than the next slowest Aston – the V8 Vantage – which takes 4.8 seconds to sprint 100km/h and has a 180mph top speed.
The Cygnet is available in any setup you want. The first two versions will be in either Swan White or Magic Black. On the inside, the White car features Pearl white leather and Alcantara seats, while the Black model gets seats and dash finished in black full grain leather.
Both Cygnet Launch Editions also come with a bespoke Bill Amberg five-piece luggage set, especially designed for and tailored to Cygnet. The black leather set comprises a glove box bag, removable door pocket bag, holdall, garment bag and a collapsible tote bag.