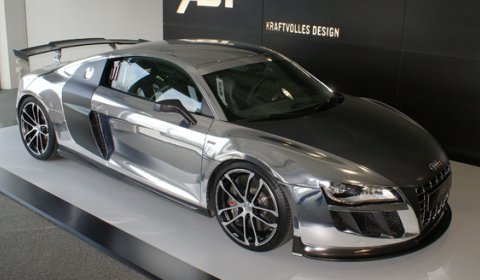 ABT Sportsline is present at the 81st International Geneva Motor Show starting on the 1st of March with two single press days. The German tuner celebrates its 115th anniversary with a total of three new models.
First of all the chrome ABT R8 GTR is present at the event. We spotted the vehicle at the Essen 2010, but the Germans are also shipping it to Geneva.
The ABT A7 Sportback – the second car – is a coupé, limousine and sports machine in one. The tuner from Kempten added an aggressive appearance to the four-door saloon.
The new ABT A6 will also be presented in this way at the motor show. The success story is continued, which started even before the first A6 C4 was launched in 1994.
The final and fourth vehicle is a sports car to be unveiled on the first day of Geneva 2011. General Manager Hans-Jürgen Abt is able to reveal this much now:
We will be bringing along a sports car which I personally like a lot. For it shows our technical capabilities and offers a maximum level of driving enjoyment. I am looking forward to seeing how it is received by the public in Geneva.
Lets do a guess! ABT R8 GTR Spyder or ABT R8 GT Ultra lightweight? You choose…