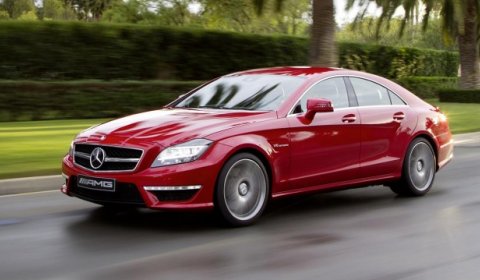 Mercedes-Benz has released a wonderful series of new pictures showing the 2012 Mercedes-Benz CLS 63 AMG on different roads in the States. The shots show the AMG family member on its natural habitat of twisting roads.
They have also released full stats on the car's performance and fuel economy. Acceleration is impressive for a car of its size, getting to 100km/h in just 4.4 seconds, or 4.3 seconds with the optional AMG Performance package, which raises output from 525 horsepower to 557. Top speed is electronically limited to 250km/h.
The Mercedes CLS63 AMG price will start on the European market at € 97,350, without VAT. The AMG Performance package price is € 6,500 without VAT. For the extra amount you'll get the increased power output, a genuine carbon fiber AMG spoiler lip on the boot lid, the AMG Ride Control Performance suspension, ceramic brakes and a rear axle locking differential with 40 percent locking action.
More information on the Mercedes-Benz CLS 63 AMG can be found here.