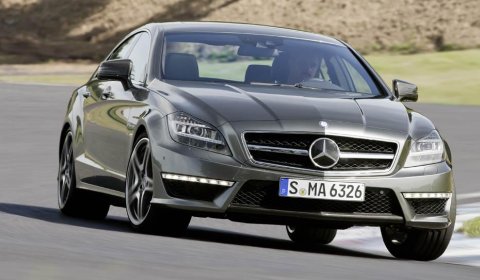 The Germans from Stuttgart have revealed the all-new 2012 Mercedes-Benz CLS 63 AMG at the 2010 Los Angeles Motor Show. The four-door coupe features the all-new AMG V8 biturbo engine generating an output of up to 550hp and 590lb-ft of torque, as well as the AMG Speedshift MCT seven-speed sports transmission. The 2012 Mercedes CLS63 AMG goes on sale in the US in the summer of 2011.
The combination of AMG Adaptive Suspension with the adaptive damping system and a new front axle arrangement, plus new electro-hydraulic AMG sports steering delivers the appropriate handling and dynamics. The brand new active LED high-performance headlights are available as an option, with LED Daytime Running Lamps fitted as standard.
As with the S 63 AMG and CL 63 AMG, the new AMG 5.5 liter V8 biturbo engine generates a maximum output of 518hp and 516lb-ft of torque. In combination with the optional AMG Performance Package, output rises to 550hp and 590lb-ft. Both versions of the Mercedes CLS 63 AMG deliver an acceleration from 0 to 60 mph in about 4.3 seconds, with a top speed of 155 mph in the standard version and 186 mph with the Performance Package.
The key difference between the two performance levels is the maximum charge pressure of the twin turbochargers, which is 14.5 psi in the standard Mercedes CLS 63 AMG and 18.8 psi with the Performance Package. Moreover, the version with the Performance Package adds an engine cover with carbon-fiber applications.
The new gearbox of the Mercedes CLS63 AMG offers the "S" (Sport), "S+" (Sport Plus) and "M" (Manual) programs together with something you'll surely enjoy – a RACE START function. The stopping power of the Mercedes CLS63 AMG is taken car of by 14.2-inch internally ventilated and cross- drilled brake discs at all four corners.