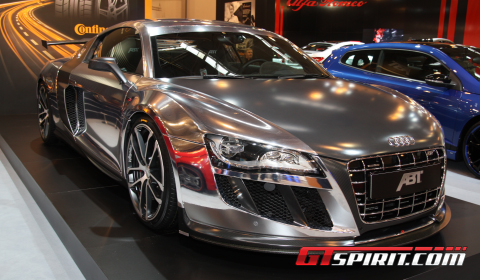 ABT Sportsline has a chrome ABT R8 GT R on their stand at Essen 2010. The vehicle was one of the highlights of Geneva 2010 and is only limited to just 25 vehicles. The ultimate R8 is based on the structure of the 5.2 FSI V10 production car.
The most important stuff is under the bonnet cover. The German tuner has upped the power figures by applying a power upgrade. The R8 is raised from 525bhp to 620bhp allowing for 0-100km/h (62mph) in just 3.2 seconds and 200km/h (124mph) in just 9.9 seconds. The R8 GT R will carry on all the way to its top speed of 325km/h (202mph).
The chrome wrap has been added to the vehicle specifically for the Essen Motor Show.