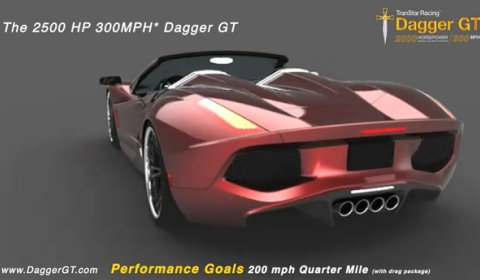 TranStar Racing has finally revealed their first video of their all-American supercar. The footage does not include any real action shots, only showing some renderings.
The US car maker will build the world's first 300mph supercar, the Dagger GT, using a routinely-built Tom Nelson 2000 horsepower racing engine and a carbon fiber design for the body.
According TranStar, the Dagger GT will be a race car, but it will be very "streetable" too. The engine can be computer-mapped to run without boost at lower horsepower levels for street operations, and then dial up maximum boost and inject racing gas, automatically, increasing engine output up to 2000hp without leaving the cockpit. Ride height can also be adjusted from the cockpit as can the amount of sound from the exhaust.
Stay tuned for more. According TranStar, one of the two prototypes will roll out in early 2011.