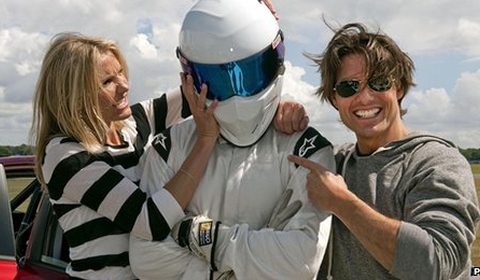 Is Ben Collins The Stig? Insiders who have been closely related to the show, have indicated to us that The Stig is just your normal average guy, a precision driver and not a known person in any of the big racing championships. Normally, it is just one guy, not two or three. Special 'Stigs' are available for publicity stunts like Michael Schumacher. But overall it is just one single guy having the best possible job in the world.
Yesterday, the British Sunday Times reported that Top Gear's The Stig is Ben Collins. The British newspaper claims that Ben Collins is The Stig based on his company's financial records. A financial report noted the company recorded a "cornerstone year" based on "driving services provided for the BBC, mainly in the Top Gear programme". The document recorded it offered "good long-term prospects for continuing income".
But who is Ben Collins? He is a 35-year-old former Formula 3 driver and was a stunt double for James Bond in Quantum of Solace where he "played" Daniel Craig inside the Aston Martin.
Of course, this is not really the proof we want. Speculation will likely continue unless the BBC or Collins are willing to step up and speak out.
[Via Jalopnik]