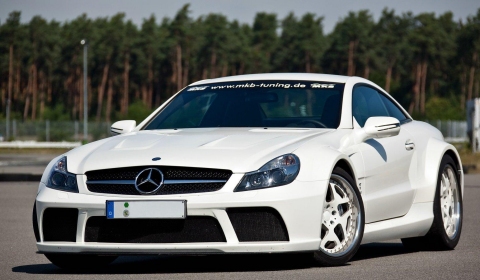 German tuner MKB has revealed the MKB P 1000 package for the SL 65 Black Series. The standard 670hp are turned up to 1,015hp (746kW) by the Swabian engineers. The engine's torque is limited to 1,300Nm.
The MKB P 1000 conversion holds new air intakes, turbocharger systems, cooling systems and an ECU upgrade. The automatic gearbox is converted to meet the increased engine torque. Additionally MKB offers MKB LSD rear axles with different ratios to reach different end speeds.
Additional figures are 0-100km/h in 3,6 seconds, 0-200km/h in 8,9 seconds, 0-300km/h in 21,5 seconds and a quarter mile in 11,1 seconds.
MKB offers this conversion as a custom hand built car in their workshop. There is no production number limit for the engine. The total cost for the engine tuning is € 116,800 in Germany including 19% VAT. The conversion takes up to three months.