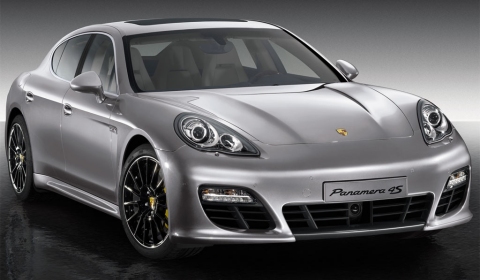 Starting next month Porsche will offer a powerkit for the Panamera Turbo, which will raise the engine output by 40hp to 540hp. Secondly, a Sport Design Package and the new 20 inch Panamera Sport wheels will be available.
Key elements of this Panamera Turbo powerkit are two new turbochargers with titanium aluminum turbine wheels. Engine management has been adapted accordingly. Maximum torque rises to 750Nm. If in overboost mode included in the Sport Chrono package, it goes up to 800Nm. In Sport Plus mode, the Panamera Turbo accelerates from 0 to 100km/h (62mph) in 3.9 sec – 0.1 sec faster than the production car. Top speed is 305km/h (188mph) compared with 303km/h (189mph) of the production vehicles.
The Sport Design Package includes a exterior color painted front end with widened black air intake grilles, separate side skirts and the standard, exterior color painted rear underbody apron with diffuser and fins. The new 20 inch Panamera Sport wheels are light alloy multi-spoke wheels 9.5 inch wide on the front axle and 11.5 inch on the rear axle. The wheels are available from Porsche Exclusive in GT silver metallic, black, or in the car color from € 1,588.65 and from Porsche Tequipment in GT silver metallic and black for retrofitting.
Starting in October 2010, the Sport Design Package will be available from Porsche Exclusive, or for retrofitting from Porsche Tequipment. The price from Porsche Exclusive is € 4,581.50. On request, side skirts can be supplied separately at a price of € 969.85. The Powerkit is available from September 2010 at a price of € 16,695.70. Porsche Tequipment will launch the Powerkit as a retrofit kit from November 2010. The packages will also be available in the States.