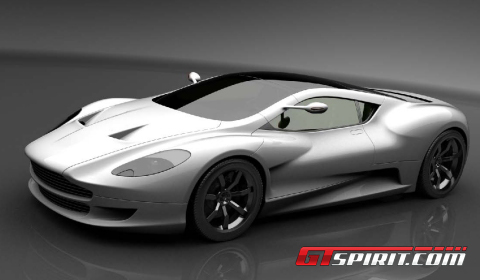 This is the new limited edition Aston Martin Super Sport! As far as we know the British car manufacturer has not revealed any addition to its line-up, so it has to be a coachbuild project.
So it is! The car pictured above is being developed and produced by Star Electric Cars France. They are a car designer licensed to create luxury electric golf cars resembling brands like Rolls Royce, Bentley, Mercedes, Aston Martin, Lamborghini, and Porsche. They also design unique cars built for presidents, kings and princes around the world.
It seems they have started a new project; a 'normal' sports car named the Aston Martin Super Sport. The Super Sport is a mid-engine engine sports car with genuine "supercar" looks powered by a twin-turbocharged 5.4 liter V8 engine producing 800 up to 950bhp. The power is transferred to the wheels via a six-speed manual transaxle, fully synchronized with an integral, torque-sensing, helical limited-slip differential. If requested a F1 paddle shift gearbox is available.
The exhaust system is powder coated. The brake kit includes Brembo or AP carbon ceramic brakes. The Aston Martin re-build is only available in left-hand drive and has a carbon fiber bodywork with upward hinging doors.
The interior includes leather, alcantara, carbon fiber and Recaro seats. The sat nav system has an iPod connection included.
The coachbuilder will only make eight cars worldwide, each color will only be made once. Sky blue is available immediately. As a customer you can visit the company to see the car and test drive it. He or she can choose the color for the exterior and interior as well as any additional option.
So far so good! But here is the price tag: € 7,500,000 per vehicle!!!
Anybody still interested, feel free to send us an email, we can guide you to the designer and sales manager of this 'unique' Aston Martin Super Sport.