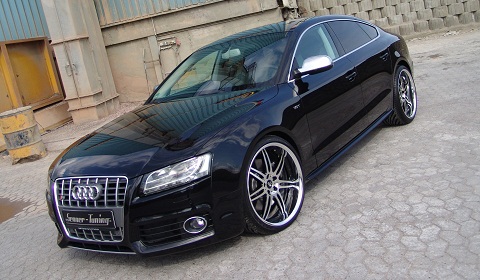 Senner Tuning AG is a company that we have heard a lot from recently. It should come as no surprise that their latest project focuses on yet another Audi product; this time in the form of the S5 Sportback. Essentially, the 'Grand Prix' further extends the options we have already seen for the standard S5 to the Sportback version. Performance, aerodynamics and interior modifications are all available as part of a comprehensive package.
Senner Tuning have provided a healthy performance increase from the standard cars 333hp to 375hp and 495Nm of torque. To achieve this, only two modifications were needed, the first being a new air filter and the second involving an ECU re-map – deleting the electronic limiter in the process.
A lower ride height (35/40mm) is offered through a set of Senner lowering springs. The new alloys are two-piece units called T1S Work VARA Diamond and are finished with black accents. Sizes are 9×20 inches and 10.5×20 inches.
The new quad-sports exhaust includes a stainless steel catalytic converter, adding a sportier soundtrack to the package. Inside, as you would expect, there is plenty of carbon fiber.