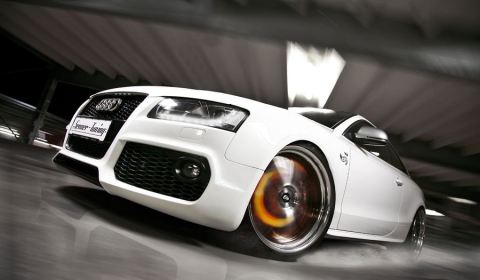 In the hands of Senner Tuning from Ingelheim the Audi S5 has become the White Beast. Apart from the obvious aero kit, they included various other upgrades.
A new front spoiler with a large air inlet in RS5 look and a radiator grill designed in the form of cells are part of the kit itself. Additionally, there is a rear spoiler lip, as well as a rear apron unit performed in carbon look by Rieger. The car is also equipped with LED back lights and the number-plate light has light-emitting diodes in clear white.
Not only the optics but also the engine power has been upgraded. An additional 30hp and 35Nm are available for Audi S5, creating an overall power of 384hp and 475Nm. They have achieved the increase by installing a performance air filter plug-in package and a different exhaust system. Furthermore, the speed limitation of 250km/h was raised, so now the car can reach 285km/h. The acceleration up to this speed was boosted by the Power Converter, an electronic module of acceleration of the signal from the gas pedal.
Finally the suspension is lowered by 40mm at the front and 35mm at the rear axle. In addition, two-parted 21 inch polished light alloy wheel rims Work Varianza T1S in diamond black were outfitted with high performance tyres by Hankook with an S1 Evo label. They size 255/30 R21 and 295/25 R21.
The interior has also undergone some changes, such as a carbon fiber interior package including a tachometer display screen and a set of fancy floor mats.
The cost of the whole kit is € 18,990 including technical inspection fees.