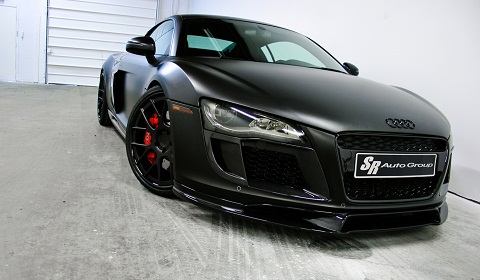 We have discussed the PPI Design kit for the Audi R8 V10 before. It is quite an unique kit, offering a sportier design in a high quality package. It has been employed here by the designers at SR Auto Group for use on their customer project named 'Valkyrie'. This has to be one of the coolest R8's we have seen so far!
So what have SR Auto Group actually done to the car? The most obvious modification would definitely be the Leios matt black wrap. Further to this, the car also features the PPI Razor carbon fiber front air dam, carbon fiber side skirts, carbon fiber rear diffuser and front/rear air vents. The final exterior modifications come in the form of a smoked front, side and rear lights.
Inside there is plenty of carbon fiber trim as well as a custom SR executive interior re-upholstery.
H&R lowering springs finish the aggressive new look as well as a set of advance one ADV7 wheels. These measure 1, 20×8.5 at the front, 20×11 at the rear and feature a matte black face with gloss black lips.
Overall, we are sure you will agree that the whole package looks incredible!