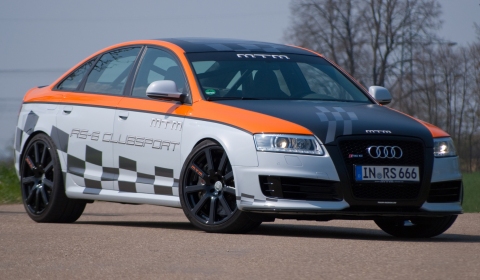 MTM has unveiled a new member to its line-up. The MTM RS6 Clubsport is based on a standard Audi RS6 saloon with its 5.0 FSI V10 Biturbo Quattro Tiptronic engine. The Germans improved the engine producing a whopping 730hp (537kW) at 6,360rpm and 785Nm between 2,750 and 6,280rpm.
The Clubsport package includes an ECU upgrade, airfilter, stainless exhaust system, catalyst with four black pipes, remote controlled valves in two pipes of the exhaust and an improved v-max from 250km/h to 279 m/h, 290km/h, 310km/h or 340km/h depending on the tyre speed homologation. The outside options list a 21 inch black MTM bimoto wheelset outfitted with Michelin Pilot Sport PS2 tyres, individually adjustable MTM springs, carbon fiber diffuser, carbon fiber front spoiler lip and an unique Clubsport Design.
The interior trim is refined with a roll cage, six-point safety harness and carbon Recaro pole position seats.
For more information on the package please contact German tuner MTM.