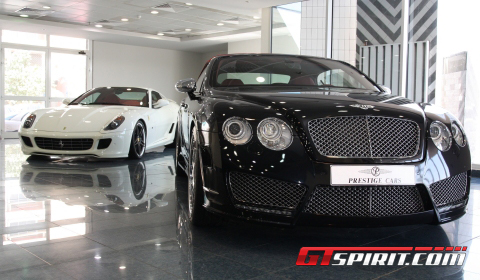 Prestige Cars is a wellknown dealership in the Gulf region. Why? Because they offer the most special supercars from brands like Mansory, Novitec, Carlsson, Arden, Wiesmann, A.R.T., Benz, Lumma Design and TechArt to customers in the UAE, Qatar, Saudi Arabia and Kuwait.
The company was founded in 2001 with a vision based on tuning luxury sports cars. Prestige Cars expanded rapidly due to the upcoming demands from the Gulf region. It now has 95 employees, a large showroom in the city center of Abu Dhabi and a workshop in the Musaffa industrial area.
While visiting the showroom Badawi Kodeissy, sales manager at Prestige Cars, discussed the market in the Middle East and the upcoming future for Prestige Cars.
The Middle East is a great supercar market. People want something different and special to show off. The current crisis was bad for us all, but still there is a group of loyal customers who remained.
Special requests from customers include their name or gold/diamond trim placed inside the interior. An great example to show off is the Mansory Ghost that was sold by Prestige Cars even before it was unveiled at the 2010 Geneva Motor Show. Another unique car is the Mansory Vincero, based on the Bugatti Veyron. Four out of the five limited vehicles were sold through Prestige!
New customers are coming from Russia, Ukraine and Kazakhstan. Deliveries are done around the world, says Kodeissy. Recovery is only available in the Gulf region where customers have a 24-hours service when needed.
The future for Prestige Cars is bright. We will open a new showroom in Qatar and Saudi Arabia. A second showroom will open in Abu Dhabi pretty soon. We will have more space for brands like Mansory, Carlsson and Wiesmann.
Check out the gallery below for an overview of our visit to the showroom. The pictures show several unique vehicles, such as the Mansory Cyrus, a matt white Novitec 599, a TechArt Magnum with its Golden magic colour and a Mansory GTC Le Mansory made for the women of the Gulf region.
If you are ever in the UAE, please visit Prestige Cars for supercars that are definitely non-standard.