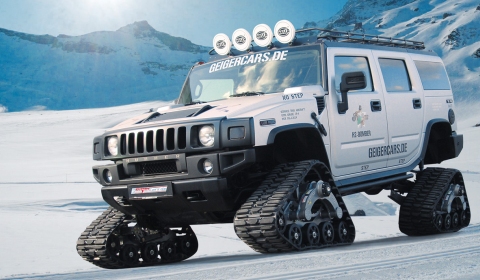 Overkill and Hummers can be a pair made in heaven. In this case we are not so sure. Perhaps you can help us out here. GeigerCars have gone a bit further enhancing this Hummer H2. They placed the "H2 Bomber" on Fortis rubber tracks.
In contrast to the regular wheels with their 8.5×20 inch rims encompassing 305/60 tyres, the tuner from Munich have equipped their project SUV with a Mattracks 88M1-A1 rubber tracks at each wheel. The massive structures, 40cm wide and 150cm long, guarantee traction on virtually any type of terrain, whether the vehicle is needed for agriculture, emergency services or expedition.
The vehicle is powered by a 6.2 liter V8 engine with 398bhp at 5,700rpm and 574Nm at 4,300rpm. The transmission is a six-speed automatic gearbox.
The interior of the GeigerCars "Bomber" is finished in a matte silver and equipped with a sunroof, navigation system with a DVD drive from Kenwood, roof monitor with headphones and a rear-view camera including a monitor in the rear-view mirror. There are extra headlights on the roof and the lettering printed in an army style. If requested, the tuner can equip each Hummer model with an economical LPG autogas system and other extras.
We generally think this car is for people trying to be Ken Block in an exclusive and luxury way.