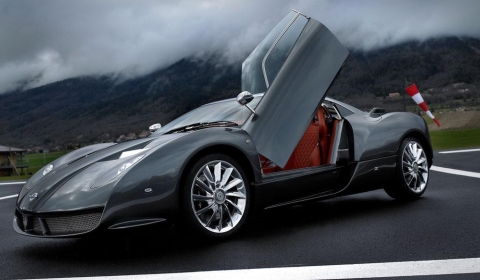 Spyker is continueing its development and strategy for the upcoming years. The deal with Saab settled a few weeks ago will not change anything. This is what Spyker confirmed to GTspirit at the Geneva Motor Show last week.
It means that the development of Spyker's D8 Peking to Paris SSUV is still on track, but it is unclear to say when it will be available. The same story goes for C12 Zagato concept we saw several years ago. Spyker states that if the vehicle hits the roads it will be build on the basis of the current C8 Aileron. So with a V8 engine instead of a V12 powerplant.
Another news fact – rumoured before – was unveiled by AutoTelegraaf.nl today. The Dutch online newspaper states that the car maker is searching for a new manufacturer to deliver a brand new V8 engine for the C8 Aileron Spyder. The current V8 powerplant from Audi will be innerchanged for a V8 Compressor from the Cadillac CTS or the V8 Biturbo from BMW. Both engines will cover the need for more power and torque in their current and future line-up.
Overall Spyker's future is bright according to the spokesman of Spyker Cars.