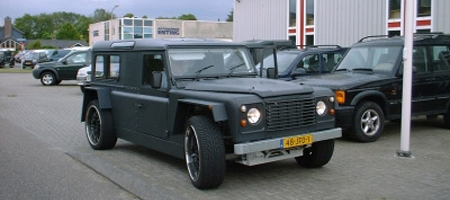 In the interview we had with Victor Muller, CEO Spyker cars, at Geneva 2009 we discussed the D12 SSUV concept or shall we say D8 SSUV concept. Muller indicated they would us a V8 engine for the new SSUV supercar. According to Autoblog.nl, Spyker is going to use the LSA V8 from the Cadillac CTS-V. The 6,2 liter engine is equipped with a supercharger and produces 564hp.
You maybe wondering how do they know this? A member at Autoblog.nl spotted a Land Rover mule of the D8. It got a Dutch license plate and a Spyker logo on the back. Checking the information via the Dutch authorities gave more information on the engine used. The specifications of the engine correspond to the engine used in the CTS-V. Coincidence? We do not think so.
Other information unveils a topspeed of 280km/h and a 0-100km/h sprint time of less than 5 seconds. We expect some kind of introduction at the 2010 event in Switzerland. We are not sure about it, but we do think that Spyker is working on a SSUV supercar shown on the Geneva Motor Show in 2010.