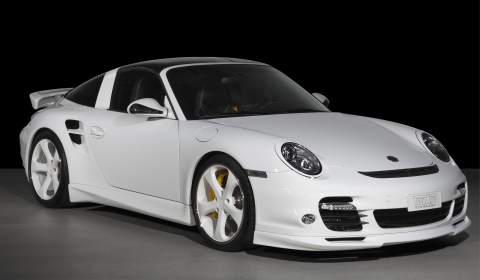 After the introduction of the Coupé program TechArt unveiled more information about the program for the Porsche 911 Turbo and Turbo S Cabriolet today.
They prepaired a vehicle to be displayed at Geneva next week. The exterior in carrara white got the Aerodynamik Kit I and a classic hardtop with two removable roof parts in carbon fiber. The black leather interior of the roofless sports car is worth noticing. Decorative stitching in white, body trims in carbon as well as seatbelts and accents in speed yellow are extras inside the vehicle.
The program includes more parts and available tuning options. For more information please refer to the TechArt 911 Turbo & Turbo S Coupé story published last week.