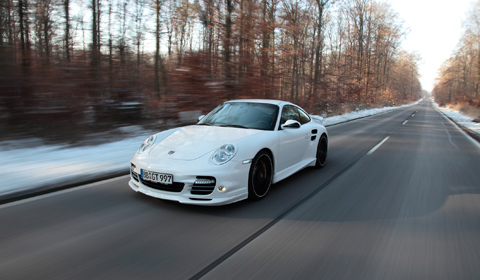 More Porsche news today: TechArt just released details of their tuning aerodynamics package for the face-lifted Porsche 997 Turbo and new 997 Turbo S models. The new TechArt 997 Turbo and Turbo S will be shown to the public at the Geneva Auto Salon 2010 next month.
TechArt offers two aerodynamics packages for the 997 Turbo and 997 Turbo S:
The new Aerodynamic Kit I reduces aerodynamic lift on both axles, allowing smoother handling capability at extreme speeds. One striking feature is the front spoiler, with its dynamically-accented air intake valves. The side features airflow-optimizing side sills, which are stretched to make the vehicle seem to sit lower. A small roof spoiler on the Coupe elongates the visual appearance of the roof line. The spoiler profile can generate additional downforce with the extensible rear spoiler. Rounding off the modified back end is the diffuser, which extends the standard skirt downwards.
The same applies to the TechArt Aerodynamic Kit II. Independent front and rear spoilers optimize air flow for improved ventilation of the braking and intercooler systems. TechArt's daytime running lights are available for the front spoiler included in the Aerokit II: It combines daytime running lights, position illumination, sidelights, parking lights, and turn signals in a combined housing that fits seamlessly into the design of the vehicle front. The display brightness of the daytime running lights automatically adjusts to the selected daytime lighting setting. Furthermore, the daytime running lights dim automatically when either of the turning signals is active, in order to improve their visibility.
Next to the two aerokits TechArt also offers a range of wheels that help to put the powerful torque of up to 700Nm securely to the asphalt. The TechArt Formula light metal wheels have a modern 5-spoke design. The product range includes TECHART Formula, Formula II, or filigree Formula III alloy-forged wheels in up to 20-inch formats. In addition, TechArt's noselift system is also available for the new 911 Turbo and Turbo S. This makes problems with everyday obstacles on the road like speed bumps a thing of the past for this vehicle. At the push of a button, ca. 60mm of additional space can be created between the road and the front spoiler by lifting the vehicle height on the front axle.
Like other TechArt models, the company from Leonberg, Germany offers a range of custom interior options with which you can further personalize your 911 Turbo (S). For instance, the interior could be completely outfitted with the finest leather. The TechArt 3-spoke steering wheel, aluminum pedals, dials in individual colors, or stainless steel entry strips embossed with the TechArt logo are all installable options.