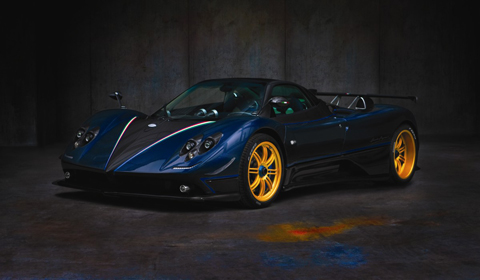 For the 50th anniversary of the 'Frecce Tricolori', what is basically the Italian equivalent of the British Red Arrows Display team, Pagani have revealed the Zonda Tricolore. If it seems familiar, we reported on a few spy shots earlier in the year. Were also betting that this will be one of the final editions of the Zonda before we get to see the C9.
The new special edition is based on the Zonda Cinque Coupé but differs by not having the ram air intake to feed the engine fresh air. In its place is a small aerodynamic fin, perhaps hinting at the flying link unique to the car. As with all the best Zonda's, the Tricolore benefits from a 'naked' carbon fibre look, this time with a clear blue lacquer coating.
Other unique features include the LED daytime running lights at the front as well as the Italian-style stripes following the cars front nose lines.
€1.3 million (£1.34M) plus tax is the asking price for this one-off example. It will be on display at Geneva next week so we will get some more photos and details.