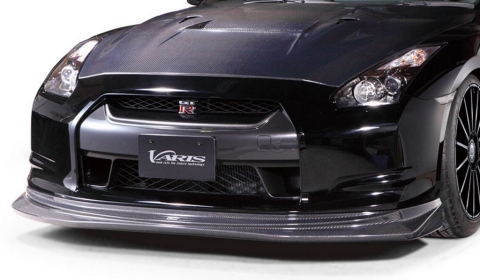 Japanse tuner Varis has unveiled the first stage of its carbon fibre aero package. The kit is available in Varis Semi Dry Carbon (VSDC) versions as well as wet carbon. The choice between two is all about weight saving. The VSDC option ensures very lightweight rigid parts without the full extra cost of a traditional dry carbon production.
As an example the front diffuser weighs only 4.5kg versus the 6.5kg standard OEM front underspoiler. A total of 30% in weight. Next to the front diffuser the full package includes an aero hood, rear diffuser, side skirts, rear wing and trunk spoiler. The Varis rear wing and trunk spoiler are available in full VSDC or in VSDC with a FRP trunk spoiler.
Pricing for all parts has also been unveiled. The front diffuser goes for $2740 (VSDC). The aero hood swaps owner for $4620 (VSDC) and $2845 (wet carbon). Rear diffuser costs $1250 in wet carbon, VSDC version is not available. A set of side skirts in Varis Semi Dry Carbon sells for $1250, the wet carbon set is a bit cheaper. The rear wing and trunk spoiler price is $3350 for the VSDC version or $2750 for the VSDC FRP combo.
Via the GT-RR website you can find more information and you are able to order the parts.
[Via GTRblog.com]