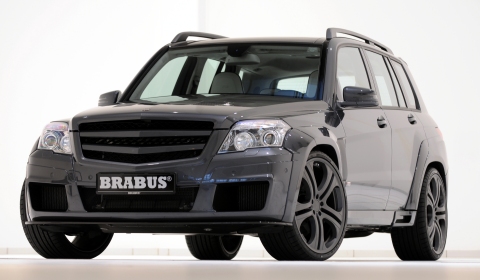 The Brabus GLK V12, powered by a twelve-cylinder twin turbo engine with 750hp (740bhp) / 552kW, makes its world debut at the Dubai International Motor Show today. The fastest street-legal SUV set a new speed record of 322.3 km/h (200.3 mph) at Nardo test track last October.
The automobile is based on the Mercedes GLK-Class and has the new SV12 R Biturbo 750 engine delivering 750hp (740bhp) / 552kW at 5,500rpm and produces a peak torque of 1,350Nm (995lb-ft) at 2,100rpm, limited in the car electronically to 1,100Nm (811lb-ft). The re-engineerd engine got an increase of displacement from 5.5 to 6.3 litres by implementing a special crankshaft, larger cylinder bore, special pistons and piston rods. In addition the engineers from Brabus outfitted the engine with special camshafts and the three-valve heads were precision-machined.
To achieve the maximum power a twin turbo system with two larger turbochargers and more efficient intercoolers were installed. Free-flow metal catalysts and a fully stainless-steel high-performance exhaust system custom-tailored to the GLK body complement the package. The power increase is transferred to the rear wheels via a five-speed automatic transmission and a Brabus limited-slip differential with a locking rate of 40 percent. An acceleration time from rest to 100km/h (62mph) of 4.2 seconds and 12.8 seconds to 200km/h (124mph) just tells the whole story.
But there is more. The front apron of the Brabus Widestar version is replaced. Its large air dams provide radiators and front brakes with ample cooling air. In combination with a carbon-fiber spoiler lip the front apron also minimizes aerodynamic lift on the front axle. The fender flares on front and rear axle add five centimeters (two inches) to the width of the GLK. Custom-tailored rocker panels ensure a smooth flow from the front to the rear. They include LED lights that are activated via the keyless remote or by pulling on a door handle illuminating the ground next to the SUV.
In the rear you will spot the roof spoiler and a rear apron with a centrally located reflector. Custom-tailored cutouts on the right and left side provide the perfect backdrop for the four shaped tailpipes of the sport exhaust system. Brabus Monoblock wheels have the size 10Jx22 and come in five different designs. Customers can choose from the new BRABUS Monoblock G five-spoke forged heels, three-piece Monoblock VI alloy wheels and one-piece Monoblock E, Q and S wheels. Tires from Pirelli and Yokohama can be mounted up to size 285/25 ZR 22.
The coilover sport suspension was developed for this vehicle and is height-adjustable on front and rear axle. It also features ten selectable settings each for bound and rebound. The brakes system features 12-piston aluminum fixed calipers and vented and grooved steel discs measuring 380 x 37 millimeters (15 x 1.5 inches) on the front axle. The rear axle stops on six-piston aluminum fixed calipers and vented and grooved 360 x 28 millimeter (14.2 x 1.1 inches) discs.
Finally, the interior of the GLK V12 was refined with a fully leather interior that can be further refined with Alcantara elements. The interior appointments are rounded out with an ergonomically shaped sport steering wheel, a speedometer with 330km/h (205mph) scale and stainless-steel scuff plates with illuminated Brabus Widestar logo. Other interior highlights are wood trim sets or carbon-fiber trim panels for dashboard, doors and center console in any color. Custom-tailored consoles for the backs of the GLK front seats contain multimedia devices, such as an integrated seven-inch LCD screen and a DVD player.
The Brabus GLK V12 starts at 397,000 Euros and is available as of today.