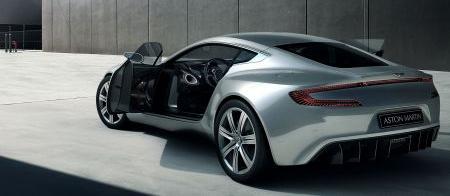 Aston Martin has released its product plans for the next three years. The plans embrace measures for CO² emissions, but also details about a small facelift for the DB-series and the official launch of the four-door saloon, the Rapide. Besides that the first One-77's will be hitting the road and we could see the first Lagonda as early as 2012.
First in line will be the Cygnet, or the 'Toyota IQ' from Aston Martin. We didn't report about it all, because for us it isn't real Aston, but it seems that the Cygnet will definitely go on sale only to meet the CO² regulations. What we know is that this little car will only be available within Europe and that it will go on sale for nothing less than €21,800, double the price of the Toyota IQ!
Next to that the Vantage V12 which already sells alongside the V8 in Europe will be produced in limited numbers for the US market. The V12 displaces 6.0 litres and pushes out 517bhp. The US is already confirmed for a few in 2010. Furthermore, the DB series (DB9 and DBS) should benefit from minor changes. What's probably the biggest news as far as volume goes, is the four-door Rapide which has a 6.0 liter V12 breathing out 476bhp together with 600Nm of torque. US deliveries are expected next spring, those who want one of the first should get on the waiting list asap.
Despite previous reports, Aston Martin CEO has confirmed the return of the Lagonda name and so far all we've seen is that strange-looking concept model from the 2009 Geneva Motor Show. Words also go that this car will only be sold in Russia and China. Last but not least the most exclusive Aston Martin, the 700bhp strong One-77, begins production at the end of the year, first deliveries in both Europe and US will take place in spring 2010.
[Via WorldCarFans]