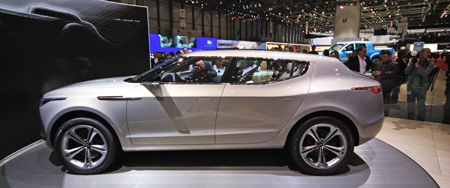 The introduction of the Aston Martin Lagonda concept doesn't get a future soon, says Inside Line. According to sources within the company the plans for the release were put on hold for now and possibly for ever. We were able to shoot some pictures of the concept at the 2009 Geneva Motor Show, but that is all we are ever gonna see of the "special" looking car.
Aston Martin Lagonda Chairman David Richards thinks same thing. He was one of many inside and outside the company who were not pleased with the Lagonda SUV at Geneva. Richards didn't even see the concept until very late in its development. The concept was yanked from the Geneva stand during the second press day, so the public never got to see it. The explanation at the time was that the concept was needed elsewhere on a tight schedule.
Other sources indicate that Lagonda boss Ulrich Bez stopped the project due to economical reasons. However, it looks like will never see this Lagonda Concept again. So take another look at our pictures and delete them from your memory as soon as you left this page.