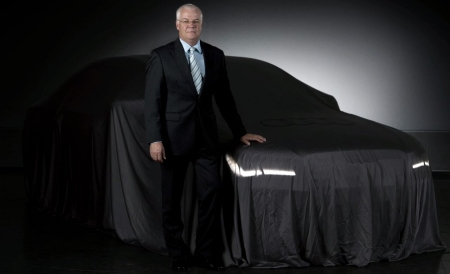 Audi is 100 years old. We didn't write an extensive story about their past or an interesting story about their future. All we can say the brand Audi celebrated their 100th birthday last week. In the collection of promotional material given away by the carmaker as part of the celebration Dutch journalists spotted a teaser image of the new Audi A8. On the picture you see Audi's board member for Technical Development, Michael Dick, standing next to a cloth-covered A8 showing some nice details.
Of course we see Herr Dick clearly, but let's focus on the car itself. Audi implemented their LED daylight system in the head lights and looks like the car is a bit shorter than the current model.
The A8 is expected to hit the market in 2010. Four engines will be available, a S8 version is not sure yet. The 2010 A8 was expected to hit the Frankfurt Motor Show in September, but is postponed until further notice. Perhaps a release in Geneva next year would be an option for the German carmaker.
[Via AutoVisie]