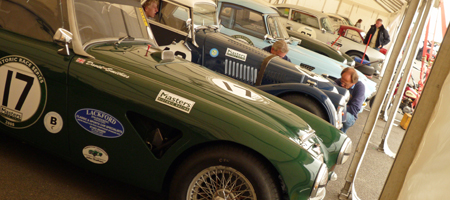 Yesterday we paid a brief visit to one of the UK's largest Classic racing festivals, the Silverstone Classic. The event ran from Friday the 24th July through to Sunday 26th July and saw some of the most expensive and rarest cars competing in several different racing heats.
As the name suggests, the Silverstone Classic focuses on Classic racers and the legendary drivers that come with them. Different from the Goodwood Festival Of Speed, the cars actually compete on track under racing conditions. It's one of the only places in the world that there's an opportunity to see legendary cars such as the Ferrari 250 GT Drogo and the Aston Martin DB4 GT Zagato risking all to be crowned the fastest racer of their class.
Together, there were 14 competitive races run over the 3 days as well as plenty to see from the outfields and in the pits. Many races involved packed multi-million pound grids, most notably the 'Stirling Moss Trophey Race for Pre 1963 GT Cars' which included no less than 5 Ferrari 250 SWB variations, 5 Aston Martin DB4 variations and a number of Jaguar, AC, Alfa Romeo and Lotus entries.
Another Crowd puller was the 'RAC Woodcote Trophy for Pre 1956 Sports Cars' which ran on the Saturday and included top names such as Sir Stirling Moss. Moss drove one of his own cars, a 1956 OSCA FS372.
Other heats included a pre-war sports car race featuring the best of motor racing before 1939 from manufacturers such as Aston Martin, Frazer Nash and Bentley. Endurance was the name of the game with this one, many of the cars relived past experiences from LeMans and the epic Mille Miglia.
We've included several galleries in this post to give you an idea of what the event was like. Let us know what you think using the comments box below.