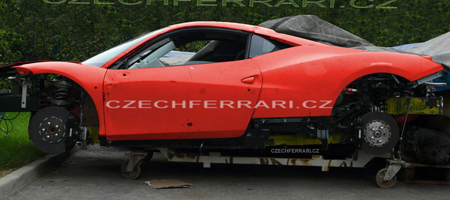 We're not sure where these photos were shot but they've managed to work their way onto the internet, revealing for the first time the F430 replacements close-up shape. The design of the car is pretty much what we saw in earlier spyshots.
The shots show a rough looking mule that very clearly in the early stages of development. It's completely immobilized, missing wheels but still containing many hallmarks of the brand and some tasty talking points. It wears the F142 Ferrari badge which is what the F450 is known as in the Ferrari camp.
To remind you of what we expect from the car, the rumors about engine's for the new 'entry level' Ferrari focus around the use of a 4.5 liter V8 unit with up to 550bhp coupled to the seven-speed dual-clutch transmission from the California to put the power onto the road. The car could hit dealerships as early as next summer with the spider version being released around 18 months later.
[Via Jalopnik via CzechFerrari]