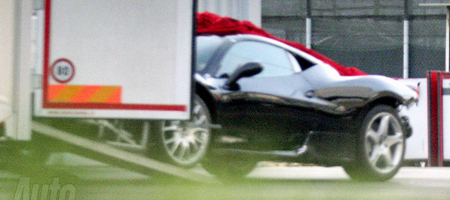 Legendary spy photographer Brenda Preddy has managed to get some very exclusive photos of what appears to be a prototype F450. The car's due to be unveiled to the public for the first time in Frankfurt so it's perfectly reasonable to expect these pictures to be the real deal and not just a product of Ferrari's custom coachbuild program.
It's missing a front and rear bumper but we can tell from the exposed mid section that the car has a huge rear! Just from looking at these photos we can see that the mid section features a new styling line, not unlike that seen on the Ferrari California. It's still not the radical departure that we were hoping for from the F360/430 platform, however the F450 seems to have got more of a redesign than the F430.
None of the rumors about engine's for the new 'entry level' Ferrari have changed since we last reported on the car. It's still supposed to use a 4.5 liter V8 unit with up to 520bhp and could incorporate the seven-speed dual-clutch transmission from the California to put the power onto the road. The car could hit the dealerships at the end of the year we are told… Thanks to Auto Express for the mock up of what the car could look like!
[Via AutoExpress and LeftLaneNews]