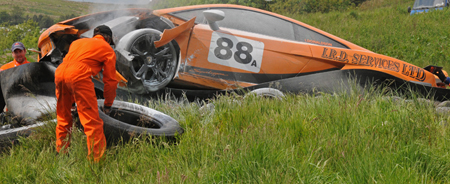 It's not often you see a Gallardo Superleggera involved in an accident. This one went off at Knockhill Circuit in Fife, Scotland at the Scottish MRC Saloon and Sports Car Championship. The owner appears to have overcooked it a bit on the corner and got a little airborne going down the small hill.
After veering off the track, the Super G mounts the tyre wall and narrowly misses the photographer at the bottom. After being hit by sections of the wall, we're told that the photographer suffered no damages.
It seems it's not the first time this car's been off the track. Parts look to have been pieced back together from earlier incidents by gaffer tape, plenty of battle scars suggest it's entire purpose centers around the track.
Hopefully this'll be fixable and he'll be able to get the car back on track again! Also take a look at the Callisto style Murcielago wheels on the car!