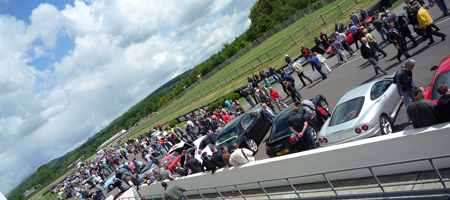 Goodwood is one of the UK's finest motorsport venues. Events such as the annual Festival of Speed and the Revival usually bring out some of the rarest and most expensive cars on the planet. However, Goodwood also plays host to a series of Breakfast Club meetings throughout the year, today we paid a visit to see what it's about.
The theme for this mornings Breakfast Club was 'Supercar Sunday – The Ultimate Performance Machines'. For the Breakfast Club meetings, cars are mostly bought by their owners, there were no visual signs of advertising on cars and this added to the raw, noncommercial, petrolhead feeling of the event. A car event that caters entirely for car people!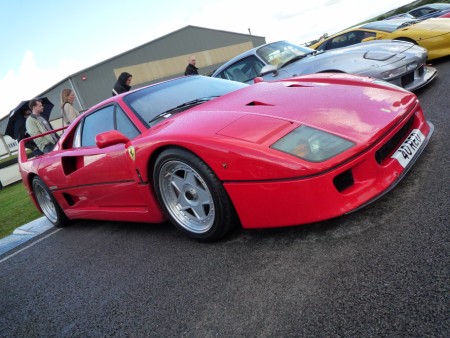 The first cars started to arrive from around 7.30am. Weather reports suggested that rain would dampen the mornings events, this failed to happen and only spots of rain fell throughout the day. The reports still stopped some of the more exotic supercars making the trip, however there was more than enough to keep us occupied.
Ferrari's put up a strong showing with two F40's on display as well as a variety of F360's, F430's, F355's and F575's. A 430 Scuderia, 16M Scuderia and California also gave us a glimpse of the latest Ferrari's to come from the Maranello stables. Even examples of older Ferrari's such as the 275, 250 Lusso, Dino 246, 330 GT and 412 put in an appearance.
Lamborghini's didn't put in much of a showing, probably due to owners unwillingness to risk the changeable weather conditions. Only one Murcielago was on show, arriving a little later and taking a spot on the pit straight. We counted two Gallardos and four Diablos as well, we didn't spot any classic cars.
Porsche's were another popular marque. Numerous GT2's, GT3's and RS models were on display. A Carrera GT arrived a little later on and was one of the star attractions. Several classic models also arrived, a stunning 356 made a late appearance and a couple of old racers.
The most stunning Porsche was the ultra rare, Gemballa GTR600. Based on the 993 Turbo, there are only five copies of this car in the whole world. New, the modifications cost the owner £173,000.
Next were the 'British brands', Jaguar, Bentley, Rolls Royce, Lotus and Aston Martin. A big showing for Aston Martin saw a large amount of V8 Vantages, DB9's and DB7's as well as DB5's and 6's. A surprise showing was the DB7 Zagato, one of 99 produced, it more than made up for the lack of an Aston Martin DBS.
Jaguar XJ220's were also present, two of them, one black, one silver. As well as this there was a Jaguar XKR Convertible and the brand new Jaguar XFR, almost a year on from it's unannounced debut at the Festival Of Speed.
A Rolls Royce Phantom Coupé was one of the earlier arrivals, presumably owned by Goodwood or the nearby Rolls Royce Factory. A number of older 3 liter Bentley Tourers also added some classic British muscle to the display's. Lotus 340R's, Elise's and Exiges were all there as well.
As for the rest, several Corvettes made an appearance, ZO6's mostly, we managed to miss the ZR1 but we are told that it was there! GT-R's were everywhere, months ago we were wondering when we were going to see one, today we managed to count at least six.
Several Ford GT's also made the trips, along with Mustangs, from classic GT500's to new GT500's. Two Classic Ford GT replicas stood out from the crowd, as did the stunning Stealth B6, a car we hadn't heard of before today!
It's claim to fame is that it knocked the McLaren F1 off the top spot for the 0-100mph sprint record. It looks like a road legal Le Mans car, it rides incredibly low, so low it dug itself into the gravel drive way on the way in!
Two Alfa 8C's, three different colored Ford Focus RS's and several Ultima's were also noticeable. Take a look at our pictures, keep an eye on the forum's also as we'll post more from this event over the coming week.