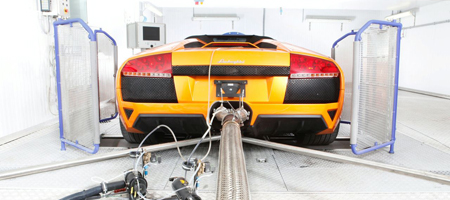 Strict emmissions targets set for car makers have forced companies to look into the possibilities of reducing the CO2 output of their highest performance cars. Most notably recently, Bentley have come out with their Continental Supersports we've also been aware of the same biofuel technology being used in Koenigsegg products for some time now.
So what are Lamborghini doing to reduce their carbon footprint? Well, the LP560-4 has highlighted the methods that are being applied, reduced weight, stop start engines, more efficient engines and the Estoque suggested that Lamborghini were working on a hybrid drive train as well as investigating flex fuel.
Whilst Bentley and Koenigsegg are already using bio fuel, the availability of the fuel means that it's not a viable alternative to standard petrol and diesel engines. So could hybrid be the way forward? Car's like the Prius and the Honda Insight have proved incredibly popular with customers for their 'save the world' feeling. However, if you analyze what these car's actually do, they are just a temporary fix.
The idea of a hybrid is that the engine works in tandem with the electric motor to reduce the emissions through a reduced fuel consumption. If you compare the figures of the Insight and Prius, they can be beaten by other non-hybrid vehicles, hence they are a temporary fix.
If Lamborghini were to produce a hybrid system, it would help reduce their overall emissions figures to comply with the new figures, avoiding the heavy fines for non compliance. Internally, Lamboghini's figure for CO2 reductions is 35% by 2015. They've set aside €35 million to help them to achieve their goal so we'll see how well it actually works!
PRESS RELEASE
• 35 million Euros investments

• The construction of a large photovoltaic plant, combined with an energy-saving project, will achieve a 30% reduction in the factory's CO2 emissions by 2010

• Modifications to vehicles will result in a 35% reduction in CO2 emissions by 2015

Automobili Lamborghini announces its intention to complete its program of environmental sustainability in record time by presenting new plans which will enable the company:

• to achieve a 30% reduction, by the year 2010, in the CO2 emissions produced by its factory
• to achieve a 35% reduction, by the year 2015, in the CO2 emissions produced by its vehicles

The plans for reducing emissions will thus involve two areas: modifications to the Lamborghini factory in Sant'Agata Bolognese, and development in vehicle design.

To redefine its industrial processes in accordance with its policy of environmental sustainability, Lamborghini has just begun a project to complete installation of a large photovoltaic system by the end of 2009.

The roof-top plant will produce 1,582 Megawatt hour (MWh) of "green" energy per year, which translates into a 20% reduction in CO2 emissions (-1,067,820 Kg/year) by 2010.

The photovoltaic systems will have a total installed power rating of 1,4 Megawatts and will extend over 17,000 m2 throughout the entire industrial area. The new system will be built by Sinergia Sistemi S.p.A.

At the same time, an equally important energy conservation project involving insulating the production facility's whole roof, improving lighting and heating and introducing destratification systems for heated air will be completed, thus resulting in a 10% energy usage reduction by 2010.

These projects represent the next step in a program that began last year with the opening of the new Lamborghini Logistics Center. The Center has already contributed to diminishing the impact caused by heavy truck traffic on the roads between Anzola and Sant'Agata Bolognese. It is calculated that this facility has achieved a reduction of emissions by over 75 kg per annum, and nitrogen oxide by over 750 kg (Sources: Standard Euro 3).

In April 2009 Lamborghini obtained the UNI EN ISO 14001 certificate, meeting the international environmental standards. It is also the first firm in the Italian automotive sector to be close to registering for the EMAS environment certificate, having successfully completed the program: EMAS regulations are set by the European Union to support organisations in their effort to evaluate and improve their own environmental efficiency.

These recent achievements support Lamborghini's commitment to protecting the environment in which it operates, and its desire to make all stakeholders aware of its actions in a transparent manner.

With regard to Lamborghini vehicles, the CO2 reduction plan aims for an additional 35% decrease in emissions by the year 2015.

The program reached its first milestone with the Gallardo LP 560-4. Introduced last year, the new car's technical advancements resulted in an 18% reduction in CO2 emissions.

At this point, Research & Development activities will continue in the following directions:

– decreasing vehicle mass
– improving combustion
– reducing friction
– Start-and-Stop systems
– hybrid drive train solutions
– biofuels

Lamborghini's commitment and its sense of social responsibility regarding the environment is evidenced by the numbers and by the sheer size of the investments that are planned. 35 million Euros will be appropriated over the next five years for this purpose.

Stephan Winkelmann, the President and CEO of Lamborghini, has said, "Despite the difficult situation in today's global economy, Lamborghini is committed to its policy of environmental management, since we are well aware of the great opportunities that derive from it. We have an objective to reduce CO2 emissions to the greatest possible degree. We have also set compulsory annual goals that are part of an integrated approach both considering the automobile as an element which is more considerate of the environment, in terms of emissions and the use of resources, to the accomplishment of a series of corresponding measures such as modifications to our factory. This is an important action for Lamborghini and a central opportunity for our long term corporate and product development.