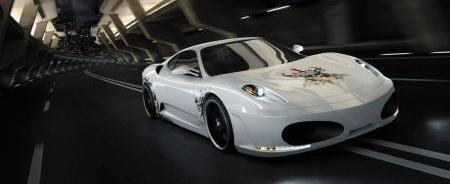 Tuner Novitec Rosso has created several packages for the Ferrari F430, which are one by one very nice. It seems they can't get enough of the F430. That's why they have decided to work together with tuner Unique Sportscars to create a special edition F430, called the Calavera, before the production of Ferrari's coupé stops.
Based on the expression "where performance meets design", they started refreshing the Ferrari's design with a unique tattoo-print by Knud Tiroch as well on the outside as inside and a set of 20-inch wheels.
Novitec Rosso also added two superchargers to the engine bringing the total output to a stunning 707bhp. The power will let you sprint to 62mph (100kmh) in just 3.5 seconds and will stop your sprint at a speed of 216mph (350kmh).
PRESS RELEASE:
Ferrari F430 "CALAVERA