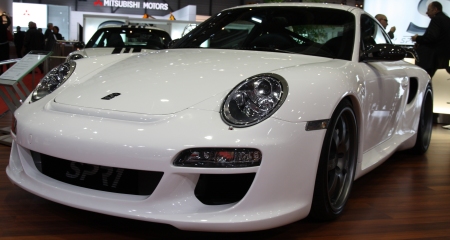 One of the Switzerland's top tuners, Sportec, has revealed their exclusive and up-rated Porsche "997" 911 Turbo at the Geneva Motor Show. The Sportec SPR1 M lifts the power to 858 hp (590 kW) and 650lb-ft (880 Nm) of torque. Other upgrades are aerodynamic enhancements and chassis/suspension tuning.
Sportec has gradually rebuilt the entire car and added a good amount of carbon fiber parts. The weight enhancements and added power are the right thing to do when you are adding modifications. The tuner also released the performance figures. The SPR1 M will hit 100 km/h in 3 seconds and continue until a top speed of 380 km/h. It can achieve 300 km/h in 18.9 seconds from zero.
Sportec also showcased two other vehicles at the event; the Sportec RS700 based on the Audi RS6 and the SP750 based on the "997" Porsche GT2. Check out our coverage of those cars.