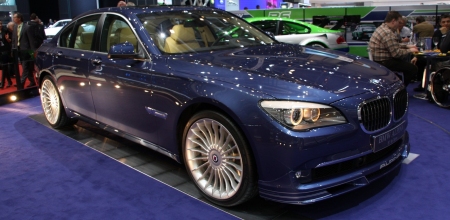 ALPINA has presented its fourth generation of automobiles based on the BMW 7 Series. The new B7 Bi-Turbo is aiming to unite exclusiveness, athleticism and comfort in perfect harmony. A clear statement from the German tuner. They showed us what it means to tune a 7 Series.
The added levels of torque and power are coming from the turbocharged 4.4 litre V8. The fully-aluminium, 4395 cm3 V8 aggregate yields 507 bhp (373 kW) at a moderate 5500 rpm, with a maximum torque of 700 Nm available between 3000-4750 rpm. B7 Bi-Turbo sprints from 0-100 km/h in 4.7 seconds, pressing on to an electronically-limited 280 km/h top speed.
The enhanced handling of the car is offered by the electronically-adjustable suspension with active roll stabilisation. A ZF six-speed automatic sport transmission ensures a smooth driving experience and adapts to any driving situation using Alpina's Switch-Tronic system.
The luxury wood trim in the form of Myrtle Burl and optional Piano Lacquer interior trim with its silver diagonal rhombs offer a distinct look to the new car. Small accents are the ALPINA door sill trims, which are illuminated in blue and the instrument cluster in which red pointers are placed over a field of blue dials.