McLaren's Christmas party was the venue for the release of the new McLaren 720S Spider. The topless McLaren joins the McLaren range almost 2 years after the 720S was officially unveiled. The 720S Spider will likely find its way onto your driveway in time for summer 2019. Orders are already being taken and McLaren has confirmed deliveries begin in March 2019.
The McLaren 720S Spider largely follows the tried and tested formula for mid-engined convertible supercars. It uses a carbon fibre, folding retractable hardtop to fill the void created by the chop. The look is almost targa-top in style with the roof pillars and roof panel the only missing parts. The rear buttress has been modified too. It presumably provide greater protection in the event of an accident.
One unique feature which isn't particularly clear from looking at the photos is the use of glass within the rear buttress. The glazed section apparently increases visibility by 12%. Quite what benefit this will offer in the real world remains to be seen.
The roof system itself is actually quite interesting. It is constructed from carbon fibre with an electrochromic glass panel. It can be opened or closed at speeds of up to 50 km/h (31 mph) and takes less than 11 seconds! That's super quick compared to the Ferrari's 14 second performance.
The McLaren 720S has a dry weight of 1,332 kg, just 49 kg more than the Coupe. Top put that into context, the Ferrari 488 Spider weighs in at 1,420 kg, the Huracan Spyder, 1,542 kg. This means that performance from the 4.0 litre V8 engine is near identical to the Coupe, 100 km/h is dispatched in 2.9 seconds and 200 km/h in 7.9 seconds.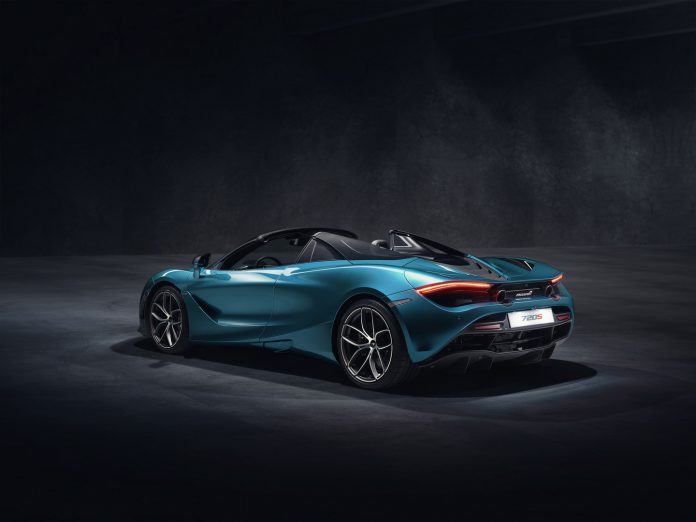 The rear aerodynamics have also received a makeover. The active rear spoiler raises at lower speeds in the Spider and is deployed to a higher angle. Deployment also varies depending upon whether the roof is up or down.
A new 10-spoke, Lightweight forged alloy wheel design is available on the 730S Spider. As with the Coupe, Performance and Luxury trims are available as options above the standard model. Two new exterior colours – Belize Blue and Aztec Gold – have been introduced bringing the choice to 23, excluding MSO customisation of course! McLaren have also re-introduced Supernova Silver, a Heritage colour that was first available on the McLaren 12C.
To secure a McLaren 720S Spider you will need £237,000.