The highly anticipated facelift of the Audi R8 has been officially launched today. Due to hit the streets in early 2019, the Audi R8 follows shortly after the premiere of the 2019 Audi R8 LMS GT3 at the Paris Motor Show 2018. Both Coupe and Spyder models have been announced with improvements to standard features and performance.
At the heart of the package remains a naturally aspirated V10 powerplant. Audi have replaced the 'Plus' badging with a 'Performance' model at the top of the tree and offer a less performance oriented V10 model at a reduced cost.
The 5.2 litre V10 engine puts out 620 hp in Performance trim with 570 hp from the normal V10 model. The gains for the normal model are in the region of 30 hp while the Performance gets an additional 10 hp over the outgoing model. The Performance manages a 3.1 second 100 km/h sprint while the V10 puts in a 3.4 second time.
2019 Audi R8 Coupe and Spyder
Modifications have been made to the design of the suspension. Optional dynamic steering and electromechanical power steering are available. The feedback changes depending on the drive mode selected. Three additional programs have been added, dry, wet and snow which are available next to the usual Audi drive select modes.
Electronic Stabilization Control (ESC) has been added to the Performance model which helps get braking distances from 100 km/h (62.1 mph) to a standstill up to 1.5 meters (4.9 ft) earlier. 19 inch wheels are now standard with optional ultralight 20 inch five spoke models and ceramic brake discs available as options. Those with a keen eye will note that the tailpipe design has also changed.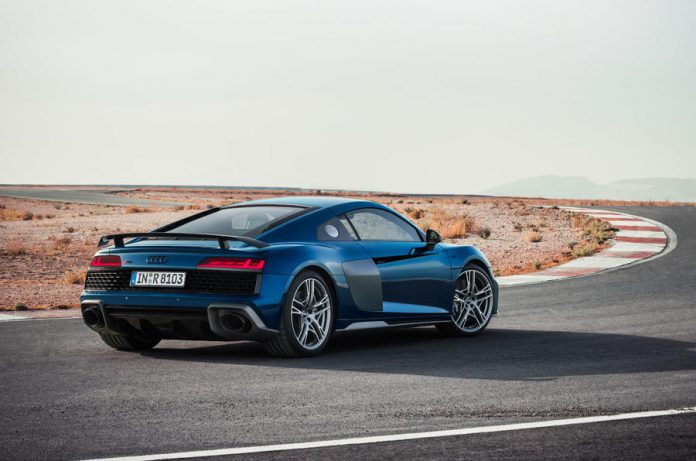 On the outside, the Singleframe radiator grille is wider and flatter. Thicker bars divide up the large air inlets. Flat slits have been placed in the hood to resemble the iconic Audi Ur-quattro brand icon. A new front splitter, diffuser and engine compartment have also been installed. Three design packages are available for the exterior with differing highlights for the splitter, side trims and diffuser. Kemora Gray and Ascari Blue have been added to the paint range too!
Pricing has yet to be announced.
There has been extensive speculation over the last year about what will happen to the Audi R8 once the second generation goes out of production. Rumours have suggested that Audi won't make a third generation Audi R8. More recently, rumours have suggested it will take the form of an all-electric car in its third generation. Is this your last opportunity to bag a naturally aspirated, mid-engine Supercar?