It has been a staggering 20 years since we last saw a BMW 8 Series roll of the production line in Germany. I was left salivating at the thought of seeing a new 8 Series hitting the streets after sighting the sensual swooping lines of the BMW Concept 8 Series at the Concorso d'Eleganza Villa d'Este in 2017 – it was a pleasant surprise to see that the production ready 2019 BMW 8 Series on sale to the public carries the dramatic lines and sharp features of the concept. I flew over to Lisbon where the German manufacturer chucked me the keys to the 2019 BMW M850i to see what the sporty coupe had to offer.
Whilst admiring the vast proportions of the M850i before jumping in I asked myself a question – what exactly is this luxury yacht born to compete with? BMW call labelled the 8 Series the 'Gentleman's Racer' – hmm, I'm not so sure. In my mind this is a large GT that I could see tempting buyers away from an S-Class coupe and a GT that would not really tickle the fancy of a focused 911 driver. Looking around the car, there is no doubting that it has some serious presence – its modern styling and ginormous grill give this thing presence, the vast dimensions command the attention of other road users. On the topic of all things HUGE, check out those exhaust surrounds, they would provide a small child the ultimate hiding space for a game of hide and seek. Unlike other manufacturers, BMW have opted to make the quad pipes behind them fairly visible and therefore slightly more acceptable. Let's hope all models and not just the M850i are treated to the pipes…I suspect the diesel will not be.
So what exactly is the M850i packing? Serious heat, that's what. The full fat M8 is to come – BMW confirmed that we will see the M8 Coupe, Convertible and Grand Coupe soon, but until they arrive the M850i will be the range topper with 530 horsepower and 750Nm of torque coming from a new 4.4-litre twin-turbocharged V8. Yum. Power is transferred to all four wheels using the xDrive system and a lightning fast yet silky smooth autobox. This results in a 0-100km/h time of just 3.7 seconds. Just imagine how outrageously fast the M8 will be…
Enough of the stats and staring, whats this V8 8er like to drive? Jump in, adjust the supremely comfortable seat and hit the ignition switch. Initial impression are brawny to say the least. In the default comfort mode the exhaust barks with intent, this statement is followed by a spattering of bangs – dramatic. Ahead of me is the all new BMW digital dash that we can expect to see across the model line up. Jazzy. You've probably seen the giant bejeweled gear selector before, it's a bit chavvy in my eyes but I'm a little old fashioned. iDrive is touch screen and features a smorgasbord of new tech. It has gotten a little too complex but is still the best system in the industry in my humble opinion. Grab the giant jewel stick in it in D and away we go.
BMW M850i Details & Interior
Comfort is…comfortable. It's actually calming and serene. The GT credentials are immediately apparent and it makes me think that this car has been set up to munch miles like a 5 series and will struggle dynamically. As it to be right on cue, the preloaded navigation led me off the smooth Portuguese highway onto some of the prettiest passes I've ever seen time for some Sport+ me thinks.
Remember those pops and bangs on start up? In Sport+ they become more and more frequent and are amusing – not quite AMG levels of silliness. The engine tone is enough to inspire more fruity driving and the car transforms from a long distance cruiser to canyon bruiser. That being said, this is a heavy old brute. This is a two tonne car and BMW have tried their best to hide it with agility improving features such as electrically controlled dampers, active four-wheel steering, anti-roll and stiffer springs, honestly, it works, but you can still feel Newtons laws at work.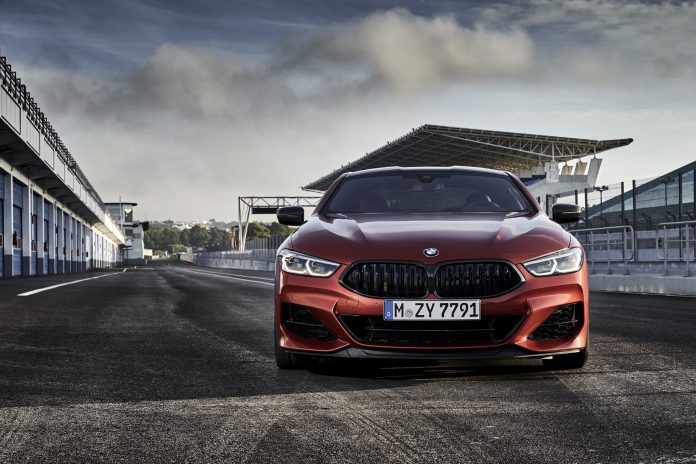 On a damp squiggle of a road, the xDrive makes its presence known allowing for over zealous application of the throttle with little drama, much speed and delicious engine/exhaust parp. It will make you giggle. I eventually ran out of road as I approached the gates of somewhere a little bit special – Circuito do Estoril. In my mind, this was going to be a wee bit irrelevant. As alluded to earlier, in my eyes this is a car for crushing long distances in with ease and not something that should be hunting for apexes on a racetrack where Ayrton Senna won his first Grandprix.
Apparently I was wrong. Heading out of the pitlane onto the damp Estoril track was something of a revelation. I was following none other than racing legend Philipp Eng piloting an M5 Competition.
Philipp could have left me in his wake at the drop of a hat, but the M850i really was not embarrassed by the most potent M5 ever. Through the corners the all-wheel-drive did not dull but instead aided the capabilities of the 8 Series and the four wheel steering effects were pronounced in the tighter bends.
BMW dubbed the 8 Series as 'The Gentleman's Racer' a big claim and one I approached with a fair bit of skepticism. Following a full day on the road and track is it clear that with the use of dynamic aids and clever engineering this is one of the best rounded cars on sale today. It offers so much in terms of usability and dynamic entertainment. Yes, it could be slightly more engaging on the street, the steering is a little numb and there isn't a lot of feedback on the whole, but this is what the M6 will surely offer.