Bugatti's debut for the Geneva Motor Show 2018 is the Chiron Sport! It's akin to an optional sport's package for the cutting edge Chiron. Owners can opt for this package to receive some additional performance refinement, 18 kg less weight and a torque vectoring function for example! Otherwise, power remains the same.
The Bugatti Chiron Sport has been developed for those that want a significant handling improvement in their Chiron. It is said to manage the Nardò handling circuit five seconds quicker than the standard Chiron. To distinguish the new model from the old, there is a new wheel design and four-pipe exhaust deflector. The Chiron Sport also has the dubious title of being the first production vehicle with carbon fibre windscreen wipers.
Weight is shed mainly through the new lightweight wheels but also through a carbon fibre stabiliser, intercooler cover and the new windscreen wipers (which we are told save 1.4 kg). Bugatti have also fitted lighter rear window glass.
Other amendments to the Chiron Sport include a stiffer suspension setup, 10 percent stiffer than the standard model. The new settings take effect in Handling mode. The rear differential has been adjusted and the Dynamic Torque Vectoring system.
Further options have also become available for the Chiron. The Geneva show model showcases these, including a classic duo-tone colour scheme with the rear of the vehicle finished in visible grey carbon and the Italian Red paintwork contrasting at the front. Other colours available include "French Racing Blue", the silver "Gris Rafale" and a dark grey "Gun Powder".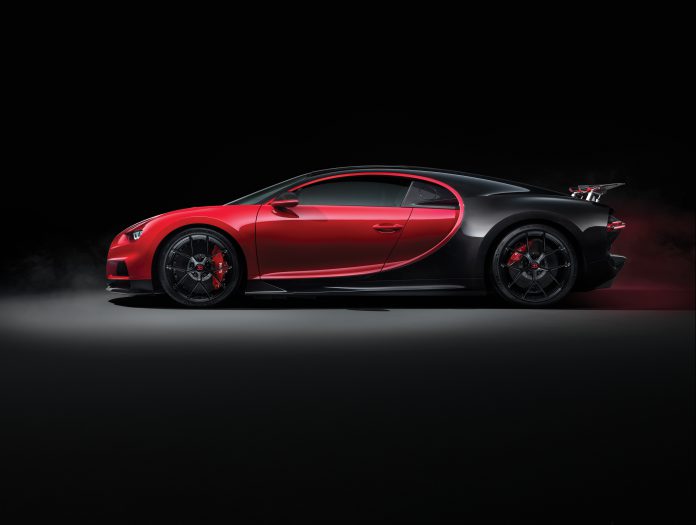 The interior of the show car is black. All the controls of the car have a black anodised finish while the steering wheel and selector lever are covered with suede leather. Bugatti has used three materials; Alcantara for the roof liner and various other surfaces, Smooth leather for the seats and exposed carbon fibre.
Bugatti are charging a base price of €2.65 million net of tax (the US market will pay $3.26 million all in). Customer will be able to choose their own individual colour and trim options with the first deliveries planned for the end of the year.