Jaguar's biggest reveal of the Geneva Motor Show 2018 has been announced. The Jaguar I-PACE joins the growing Jaguar SUV range. A complete electric vehicle, the I-PACE is bold move from the British manufacturer, ensuring that it competes with the latest and greatest its German rivals offer.
The electric power is driven to all four wheels using twin Jaguar-designed motors. Combined power output is 400PS and 696Nm. The I-PACE uses a 90kWh lithium-ion battery, managing up to 298 miles range from full. It will also offer scintillating performance with a 0 to 60 mph time of just 4.5 seconds.
The battery (mounted centrally between the two axles) can use rapid public charging to give 80% charge in just 85 minutes. 30 minutes of charge gives about 80 miles range. Jaguar have announced that the I-PACE will be fully compatible with 100kW chargers which look set to become the industry standard in the UK at least.
The technology is not just skin deep, Smart Settings use artificial intelligence algorithms to tailor I-PACE to the individual driver. Much like Tesla, Jaguar will offer wireless over-the-air updates to ensure customers always have the latest software.
Another complaint normally levelled against electric cars is the maintenance requirements. The I-PACE will get an eight-year battery warranty (up to 100,000 miles) and 21,000-mile/two-year servicing intervals.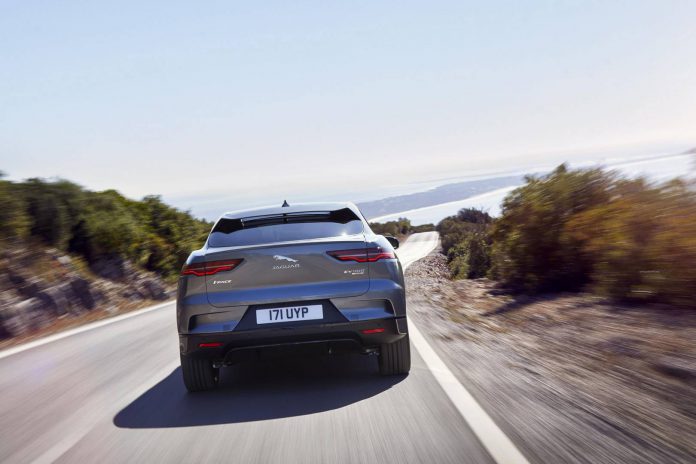 Jaguar's usual aluminium architecture gives a rigid body structure and helps achieve a perfect 50:50 weight distribution. The metals are riveted and bonded the same as the rest of the Jaguar range. It has the highest structural rigidity of any Jaguar.
The design is nothing unexpected. It looks remarkably similar to the concept car, taking design cues from Jaguar's stillborn supercar, the Jaguar C-X75. Short, low and aerodynamic, the tight design helps give a drag co-efficient to just 0.29Cd. As it has no need for a transmission tunnel, the space inside is impressive!
The I-PACE also introduces a new MMI system for Jaguar. The Touch Pro Duo infotainment system uses touchscreens, capacitive sensors and tactile physical controls loaded with a new EV navigation system and Smart Settings. Amazon Alexa Still is also loaded into the MMI, a world exclusive.
The Jaguar I-Pace is a available to order from today with S, SE and HSE derivatives as well as a First Edition. Pricing will start from £63,495 in the UK. We will be taking a closer look at the Geneva Motor Show 2018 next week!