McLaren's new ultimate hypercar, the McLaren Senna, makes its official public debut next week at the Geneva Motor Show 2018. The road-legal track car was first revealed late last year and has since been spotted testing worldwide. Geneva offers McLaren the perfect opporuntity to present the car and to push the customisation options available through McLaren Special Operations.
The McLaren Senna 'Carbon Theme' is a bespoke project by McLaren Special Operations (MSO) which combines gloss Naked Carbon Fibre bodywork with Carbon Black Alcantara interior trim. Detailing has been applied through the use of Solar Yellow and Laurel Green paint, echoing the helmet livery of its namesake, Ayrton Senna. The Theme is one of five themes produced by MSO for the Geneva Motor Show, the other four will be digitally displayed on the stand.
McLaren Senna Full Carbon Theme
The full body set comprises of 67 parts. McLaren claim that it takes 1,000 hours to produce with the paint detailing adding an additional 250 hours to the build time. Solar Yellow detailing has been applied to the sill exteriors, rear wing and front active aero blades, Laurel Green colours the brake callipers. Inside, the gas strut and contrast stitching is finished in the green while the steering wheel gets a yellow centre band.
Both seats are fitted with a Senna 'S' on the headrest with the same detail etched into the satin finish on the end plates of a the rear wing. If you are interested in consulting MSO for the build of your Senna, the cost for something similar or identical to the Carbon Theme is said to add £300,000 to the £750,000 retail price. Just 500 Senna's will be built and the MSO touch ensures that those particular cars will be unique.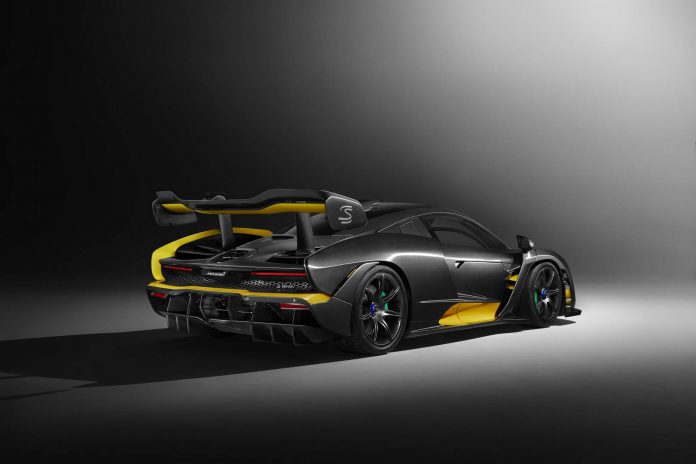 The McLaren Senna 'Carbon Theme' also debuts a new set of wheels available through the MSO program. The new ultra-lightweight MSO 7-Spoke Hybrid Carbon Fibre Wheels will be available to order soon as a retailer-fit option. It is the only alternative wheel available for the Senna, with a centre-lock and a forged aluminium/carbon fibre construction that is 10 per cent lighter than the standard model.
Intriguingly, McLaren's press release confirms that at their press conference, which is pencilled in for 10:45 CET on March 6, an additional surprise will also be waiting for reveal.