Porsche's mid-life refresh of the 911 range is complete with the release of the type 991.2 Porsche 911 GT3 RS. Building on the success of the 991.2 GT3 released last year, but without the option of a manual gearbox, expect demand to be high for the latest performance Porsche!
Weissach's latest treat is a 4.0 litre six-cylinder naturally aspirated engine. In its new form it pushes an impressive 520 hp, 20 hp more than the outgoing model and the current Porsche 911 GT3. It's enough to propel the 911 GT3 RS from 0 to 100 km/h in 3.2 seconds, reaching a top speed of 312 km/h. The engine works exclusively with a seven-speed PDK gearbox.
The GT3 RS is as close to a race car as it is possible to be. It has a huge fixed rear wing with a weight optimised body. The focus on weight extends to the carbon fibre bucket seats, lightweight door panels with storage nets and opening loops and reduced sound deadening.
Porsche now fit the GT3 RS with ball joints on all the chassis arms. 20 inch lightweight wheels are fitted at the front with larger 21 inch wheels. A Clubsport package is available at no extra cost and includes a roll-over bar, a manual fire extinguisher, preparation for a battery disconnect switch and a six-point belt.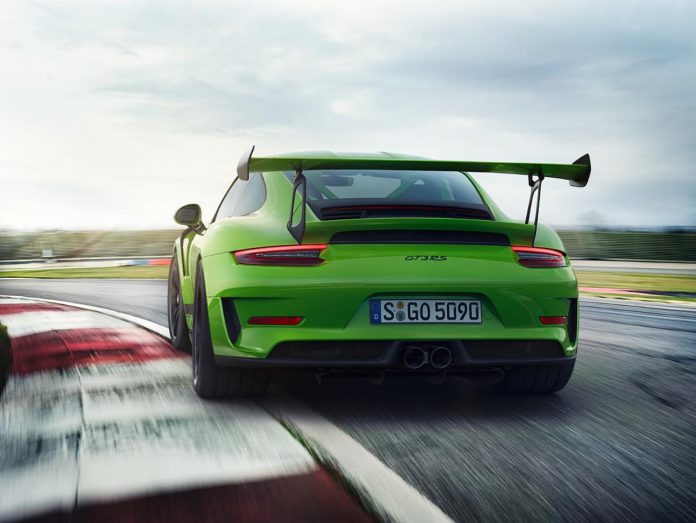 In addition to the Clubsport package, a Weissach package adds further hardcore options. Magnesium wheels as well as additional carbon components for the chassis, interior and exterior. The package reduces the weight of the 911 GT3 RS to just 1,430 kilograms.
Market launch is set for mid-April 2018 with a price starting from 195,137 euros, including VAT.